The Back To Top button enables the users to smoothly scrolls the page back to the top when they reach the very bottom of the document.
This is a list of 10 best and top-downloaded back to top/scroll to top plugins to enhances the user experience on your long webpage.
Table of contents:
jQuery Back To Top Plugins:
Just another jQuery scroll to top plugin that displays a back to top button at the lower right corner of your current page.
---
A smooth page scrolling effect for returning to the top of the page using jQuery that provides visitors with an easy way to quickly scroll to the top of the page.
---
Showup is a simple jQuery menu plugin for hiding the sticky top menu bar when scrolling down the page and showing it at the top of the page when scrolling up.
---
scrollToTop is fast jQuery plugin that allows you to scroll to top and bottom of your page with a smooth scrolling effect.
---
backTop is a jQuery plugin that provides a simple way to display a back to top button as you scroll down the page.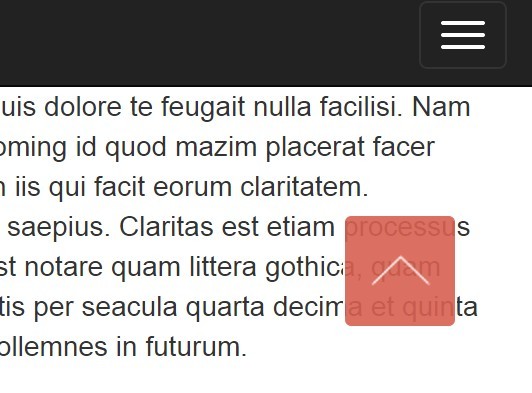 ---
Vanilla JS Back To Top Libraries:
scroll2Top is a tiny JS library used to scroll the page to a target position with smooth scrolling effects. Perfect for creating a scroll to top button on your website to improve the user experiences.
---
Subir.js is an ultra-light JS library used to display a 'Back To Button' as you scroll down a certain distance from the top of the webpage. Clicking on the 'Back To Button' will smoothly the webpage back to the top.
---
ScrollTop-JS is a lightweight JavaScript back to top plugin which provides the smooth, high-performance scroll to top animation using the window.requestAnimationFrame() API.
---
ue-scroll-js is a tiny JavaScript plugin to display a customizable 'Scroll To Top' button at the bottom of the webpage when scrolling down.
---
Yet another smooth scroll library written in ES6 that smoothly scrolls the page to the top or a specific point with an easing effect.
---
Conclusion:
Want more jQuery plugins or JavaScript libraries to create awesome Back To Top buttons on the web & mobile? Check out the jQuery Back To Top and JavaScript Back To Top sections.
Publication date: 22.05.2019