The news ticker provides a horizontal, infinite-loop data display experience for quotes, breaking news, latest posts, featured articles, cryptocurrency prices, and much more.
In this post, you will find the 10 best jQuery, Vanilla JavaScript and Pure CSS plugins that help developers to quickly generate scrollers for news ticker, stock ticker, post scroller and any other text-based content on the webpage. Have fun.
Table of contents:
jQuery News Ticker Plugins:
A simple jQuery plugin which makes a list of items scroll from right to left similar to the traditional marquee tag.
---
Advanced News Ticker is a jQuery plugin used to vertically scroll a group of html contents as a news ticker.
---
Responsive Ticker is a lightweight jQuery plugin used to create a fully responsive news ticker on the webpage that works perfectly on both desktop and mobile devices.
---
tickerNews is a super light jQuery news ticker plugin that allows you to scroll through a list of items infinitely.
---
Easy Ticker is a jQuery plugin helps you create a highly customizable, cross browser, flexible and infinite news ticker on your web page.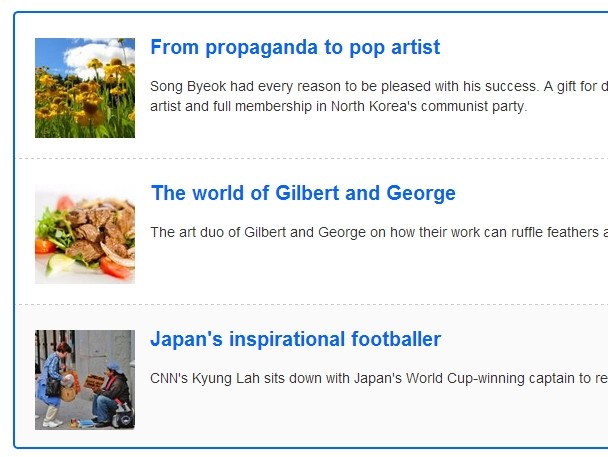 ---
Vanilla JS News Ticker Libraries:
marquee.js is a lightweight JavaScript library which allows to scroll horizontally and infinitely through html elements like the traditional marquee element.
---
Marquee3000 is a small, performant JavaScript scroller library which applies a smooth, configurable scrolling effect to any html content just like the obsolete <marquee> tag.
---
tickit is a vanilla JavaScript ticker library that uses CSS3 transitions to rotate through an array of text at a certain speed.
---
Pure CSS News Tickers:
A pure CSS solution to create an automatic & nice-looking news ticker widget with pause on hover functionality and CSS3 based animations.
---
A CSS3 powered text rotator which allows you to scroll through a list of text like a news ticker.
---
Conclusion:
Want more jQuery plugins or JavaScript libraries to create awesome news ticker on the web & mobile? Check out the jQuery News Ticker and JavaScript/CSS News Ticker sections.
Publication date: 18.05.2019