Use these 10 Best Text Typing jQuery Plugins to simulate typewriter-like text typing and deleting effects for your headlines, titles, and any import text messages. I hope you like it.
YOU MIGHT NOT NEED JQUERY! View our Top 10 Text Animation Libraries.
Originally Published Dec 30 2017, updated Dec 12 2018
typer.js is a very small jQuery text rotator plugin which allows you to rotate through an array of text strings with typewriter style typing and deleting animations.
---
Just another terminal-like typing animation plugin for jQuery that makes it possible to prints and rotates through an array of strings character by character.
---
qwerty.js is a super tiny jQuery plugin which makes it easier to simulate typing and deleting text letter by letter on your webpage.
---
jTyper is a really simple jQuery plugin to create typewriter style typing animations that supports both plain text and anchor links.
---
Yet another jQuery text animation plugin which prints text line-by-line with a typing animation similar to the typewriter and terminal.
---
Typingeffect is a jQuery plugin that applies custom CSS3 powered animations to characters when typing and deleting characters in an input field.
---
A bare-bones jQuery plugin to simulate the typewriter effect that prints an array of strings line by line with a typing animation.
---
TyperText.JS is a super simple jQuery text animation plugin that outputs your text character per character to simulate a text typing effect on the page.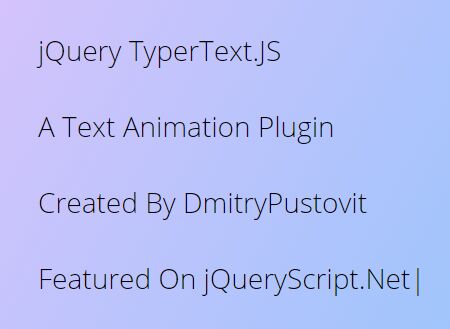 ---
typeLighter.js is a jQuery plugin which lets you create an infinite-looping text rotator with text highlighting, typing and deleting effects.
---
pixel-blue-writer is a simple yet customizable jQuery plugin that lets you create Terminal- and Typewriter-style animated typing/deleting effects on the web page.
---
Publication date: 12.12.2018