Autocomplete is a generic design pattern that is typically used in an input field, which displays a dropdown list containing predefined suggestions when typing. In this blog post, we collected and listed here a list of 30 best jQuery plugins to easily and quickly implement the Autocomplete & Typeahead functionalities on your modern web app. Have fun.
Autocomplete Multiselect is a plugin for jQuery & jQuery UI that turns a standard text input filed into a tokenized autocomplete box.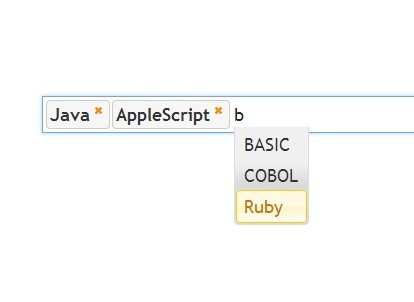 ---
A jQuery plugin that attaches a dropdown list with capabilities of multi select and autocomplete to any DOM elements (e.g. input fields) when getting focused.
Tokens is a jQuery plugin that converts an input filed into a tagging/tokenizer input that breaks up what your user typed into tokens or tags, with suggestion/autocomplete box display.
---
Editable Select is a minimal jQuery select enhancement plugin for converting a regular select box into a filterable, autocomplete input field.
---
A simple, flexible, powerful jQuery plugin which provides the 'autocomplete' functionality on your input field with support for local datalist and remote JSON data.
---
A simple, convenient jQuery dropdown plugin which converts the normal select element into a combo box with typeahead/autocomplete support.
---
A simple yet robust jQuery plugin that makes it easiter to create autocomplete dropdown list for text input fields.
---
Typeahead Tagging is a lightweight jQuery plugin that turns a regular text field into a tag system with support for Typeahead based autocompletion.
---
Bootstrap Suggest is a jQuery plugin which allows to implement Twitter style username autocomplete/autosuggest feature on your textarea elements.
---
magicsearch is a AJAX enabled jQuery plugin which allows the visitor to select single or multiple items from a predefined dropdown list when typing something.
---
Search Suggest is a feature-rich, Ajax-enabled jQuery autocomplete / autosuggest plugin for Bootstrap framework.
---
Today I'm going to introduce a jQuery & jQuery UI script that allows you to create autocomplete/autosuggest boxes for textareas.
---
jQuery.Autocomplete is a jQuery based autocomplete plugin that attaches autocomplete/autosuggest drop down list with ajax lookup to text input fields when your users input.
---
A jQuery plugin that allows to select multiple tags from a drop down list populated with suggestions defined in the select element and/or an external JSON file.
---
Just another jQuery autocomplete plugin that display a Google-style autocomplete dropdown list as you type something into a text field
---
mab.jquery.taginput is a jQuery plugin used to transform a text field into a nice input field to manage tags.
---
typeahead.js is a javascript library inspired by Twitter's autocomplete search functionality for creating smart auto-complete form fields.
---
tAutocomplete is a jQuery autocomplete plugin that provides suggestions from a multi-column table in a dropdown list while the visitors type into the input field.
---
suggest.js is a simple-to-use jQuery plugin for auto- suggesting and completing text in an input field based on user input.
---
Search.js is a jQuery based live search plugin which adds an autocomplete/autosuggest box (for local JSON data) to your search input.
---
An user-friendly and mobile-friendly jQuery plugin that suggests and autocompletes the domain suffix from a list of predefined email domains while an user types into the email input field.
---
A very small jQuery plugin that extends the default jQuery UI autocomplete widget to allow multi-column suggestion dropdown list.
---
Yet another jQuery plugin designed for email fields that autocompletes email addresses from a pre-defined domain list.
---
A jQuery & Bootstrap plugin that adds the AJAX-enabled typeahead & autocomplete functionality to the normal input fields.
---
A jQuery plugin that pops-up an auto- complete/suggest dropdown list while you start typing '@' in textarea or input textbox.
---
A tiny, easy and flexible jQuery autocomplete & suggestion plugin with support for cache, term highlighting and Ajax requests.
---
inputTags is a pretty, flat style jQuery tags input plugin which allows you to manage tags in a text input with support for autocomplete and tags validation.
---
mentiony is a jQuery plugin that allows you to mention people in a textarea / input field like you are used to on Facebook or Twitter.
---
Autocompleter is a simple, easy, customizable, cache-enabled jQuery plugin which allows you to select an item from a dropdown list populated with suggestions.
---
Completer is a simple yet robust jQuery plugin which allows to autocomplete input fields (emails, domains, custom strings, etc) from a dropdown suggestion box.
---
Publication date: 24.03.2018