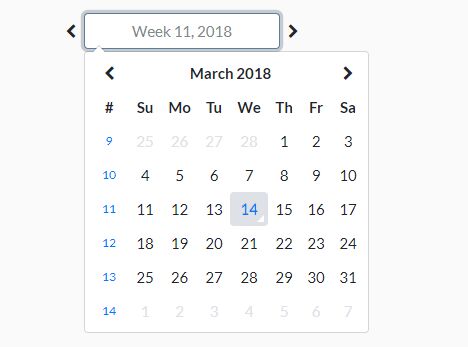 This is a jQuery based Week Picker plugin for Bootstrap 4 that makes it easier to select the week number of a specific year from a calendar popup. Select previous or next week with arrow buttons or select random week via input field.
Dependencies:
How to use it:
1. Load the required JavaScript and CSS resources in your document.

<!-- Stylesheet -->
<link rel="stylesheet" href="https://maxcdn.bootstrapcdn.com/bootstrap/4.0.0/css/bootstrap.min.css">
<link rel="stylesheet" href="https://maxcdn.bootstrapcdn.com/font-awesome/4.7.0/css/font-awesome.min.css">
<link rel="stylesheet" href="bootstrap-datetimepicker.min.css">
<!-- JavaScript -->
<script src="https://code.jquery.com/jquery-3.2.1.slim.min.js"></script>
<script src="https://cdnjs.cloudflare.com/ajax/libs/popper.js/1.12.9/umd/popper.min.js"></script>
<script src="https://maxcdn.bootstrapcdn.com/bootstrap/4.0.0/js/bootstrap.min.js"></script>
<script src="https://cdnjs.cloudflare.com/ajax/libs/moment.js/2.21.0/moment.min.js"></script>
<script src="bootstrap-datetimepicker.min.js"></script>

2. Load the Bootstrap 4 Week Picker's JavaScript at the end of the document.

<script src="bootstrap-weekpicker.js"></script>

3. Create a container element where you want to generate the week picker.

<div id="example"></div>

4. Initialize the week picker and done.

var weekpicker = $("#example").weekpicker();

---
This awesome jQuery plugin is developed by trco. For more Advanced Usages, please check the demo page or visit the official website.
Publication date: 16.03.2018