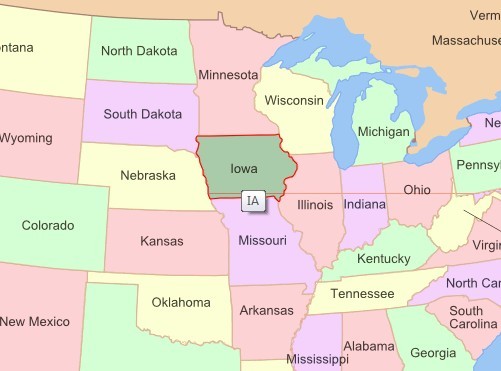 Maphilight is a simple jQuery plugin that allows you to add visual highlights to image maps using canvas or VML (For MS IE). It applies to images with a 'usemap' attribute, and outlines the areas defined in their map on mouseover.  Not only maps, with this plugin you can mark any picture to make it interactive with highlights.
Basic Usage:
1. Include jQuery library and jQuery Maphilight on the web page

<script type="text/javascript" src="https://ajax.googleapis.com/ajax/libs/jquery/1.9.1/jquery.min.js"></script>
<script type="text/javascript" src="../jquery.maphilight.min.js"></script>

2. Insert a Free United States Map generated from "Map of USA with state names.svg".
3. Call the plugin with default options.

$('.map').maphilight();

4. All default options.

fill: true,
fillColor: '000000',
fillOpacity: 0.2,
stroke: true,
strokeColor: 'ff0000',
strokeOpacity: 1,
strokeWidth: 1,
fade: true,
alwaysOn: false,
neverOn: false,
groupBy: false,
wrapClass: true,
// plenty of shadow:
shadow: false,
shadowX: 0,
shadowY: 0,
shadowRadius: 6,
shadowColor: '000000',
shadowOpacity: 0.8,
shadowPosition: 'outside',
shadowFrom: false

Change logs:
2018-02-08
2016-06-12
updated js to use jquery 3.0
2015-10-22
---
This awesome jQuery plugin is developed by kemayo. For more Advanced Usages, please check the demo page or visit the official website.
Publication date: 08.02.2018