Here's the 247th Weekly Web Design & Development Collective that aims to introduce fresh new, trendy and easy-to-use web design & development resources (freebies, codes, graphics, tools, inspiration, etc) from the past week. Have fun with it and remember to share with your friends.
Bloomberg dropdown menu
A mimic of the Bloomberg dropdown menu widget without JavaScript.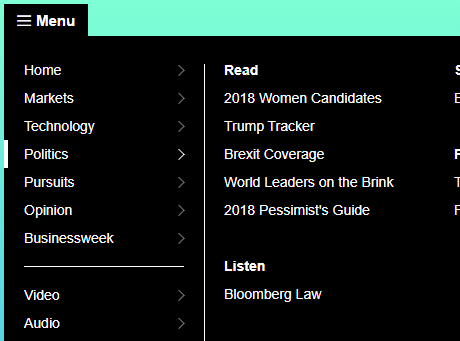 disco.chat
disco.chat adds anonymous ephemeral real-time chat to any webpage. It's a mashup of Twitch's chat and Intercom's customer service chat widget.
[Download]
Stream UI Kit
Stream - UI Kit. A beautiful Open Source Bootstrap 4 UI Kit under MIT license for better web!
lepto
Automated image Editing, Optimization and Analysis via CLI and a web interface. The main purpose of this tool is to automate image optimization and analysis.
[Download]
Origami
This is a Javascript library for creating origami crease patterns.
spritejs
A cross-platform lightweight 2D render object model.
Disintegrate
A small JS library to break DOM elements into animated Canvas particles.
logo_builder
A simple, open source, data powered logo builder. Using a set of fonts and their classifications the logo builder AI selects a set of similar fonts to create compelling logos.
giojs
A Declarative 3D Globe Data Visualization Library built with Three.js.
ml5.js
ml5.js aims to make machine learning approachable for a broad audience of artists, creative coders, and students. The library provides access to machine learning algorithms and models in the browser, building on top of TensorFlow.js with no other external dependencies.
Neon Button
darkreader
Dark Reader for Google Chrome and Mozilla Firefox.
[Download]
Triple Panel Reveal Slideshow
A fullscreen image slideshow with lateral image previews and a reveal animation using TweenMax.
uxmind UI Kit
A modern UI Kit for Sketch and Figma.
[Download]
3-D Sketch Free Display Font
3-D Sketch is a free hand-drawn display font in OTF and WOFF formats that can be used in both personal and commercial projects.
[Download]
Publication date: 02.07.2018